We would like to congratulate and welcome Amanda Turner as our 2015-2016 Union Symphony Prelude Junior Strings Music Director. We are excited that she is joining us and we look forward to a great season.
Turner holds a Bachelor of Music (1998) and Master of Music (2005) in Music Education, both from the University of North Carolina at Greensboro. In 2008, she was awarded National Board Certification by the National Board for Professional Teaching Standards. Currently, Amanda teaches orchestra, and beginning guitar at East Mecklenburg and Ardrey Kell High Schools, both located in Charlotte, NC.  Mrs. Turner also helps with the 5th grade afterschool program at Charlotte Latin School.  Orchestras under Mrs. Turner's direction have consistently earned Superior and Excellent ratings at the North Carolina Music Performance Adjudication and at a variety of other performance venues.  Students in her ensembles are chosen to participate in auditioned orchestra including the North Carolina Honors All-State Orchestra, Western Region Orchestra Clinic, the Junior High Western Region Honors Orchestra and the Charlotte-Mecklenburg High School All-County Orchestra. Read more of Amanda Turner's Bio.
---
Exploring Greece & Its Islands
Neal Albright among symphony friends, David and Barbara McLaud and Moya Saltzgaber, traveled to the beautiful country of Greece to explore classical landmarks and the islands of Mykonos and Santorini on April 26 to May 10, 2015. See more of Neal's photos.
---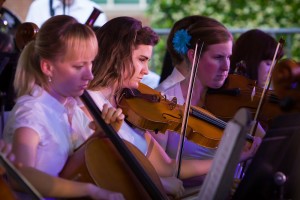 Purchase Season Tickets Now!
We are very excited to celebrate our 10th season and hope that you will join us.
---
Jazz Night
A casual evening with Union Symphony
Featuring music by Union Jazz Director Dennis Contreras & Friends
Opening performance by Union Jazz
Bottle Factory Venue in Downtown Monroe
Saturday, October 10, 7-11 PM
$50 per person