The Union Symphony will be holding a collaborative performance between the Union Symphony Orchestra and Wingate University Singers, led by Richard Rosenberg with guest director Kenney Potter. It will be held at The Batte Center at Wingate University, Sunday, March 29th at 4 PM.
Don't miss it!
Let's take a moment to remember some of the exciting highlights of the gala…
An Interview with Dr. Jerry McGee, President of Wingate University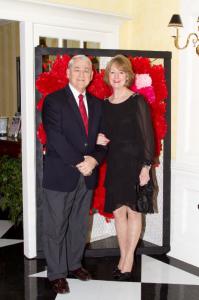 Q: What was most fun about tonight?
A: The performance, definitely! I loved seeing the youth ballet and the orchestra, they're so talented.
Q: Why do you support the Symphony?
A: It adds so much to the community. You know, there are so few communities that have the ability to support artistic groups like the orchestra and the youth ballet and I love that the Union Symphony can put on events like this to help artistic organizations grow like they can here.
Q: What would you like to see more of from the Symphony?
A: Outdoor concerts.
Stellar Youth Performance
Thank you to Vivace Strings Violinist, Jill Pownall along with Elizabeth Dorans, viola, and Grace Kim, cello, who performed during social hour at the Up Close & Personal Valentine's Gala.
Thank You for all your support!
See you again next year!