Union Symphony Youth Orchestra violinist and Dorian Fiddles leader Genna Rivers found this kindness rock at Spiro's at Hilltop. Genna has been a part of Union Symphony youth programs for the past 8 years and has served as a volunteer in the symphony office this summer. See Genna perform with Union Symphony Youth Orchestra in their ninth season.
The Kindness Rocks Project is a world wide effort to inspire others through random acts of kindness.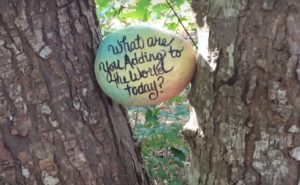 Join us on Labor Day, September 4 at 7 PM for Wingate University Outdoor Pops on the lawn of the Stegall Administrative Building. Bring your lawn seating and a picnic to this family friendly event. Free admission.