Last Sunday, March 29, Union Symphony performed a collaborative concert with Wingate University Singers at The Batte Center of Wingate University. The first half of the evening featured both Union Symphony Orchestra and Wingate University Singers, as well as Soloist Seth Bingham, directed by Kenney Potter as they performed Bernstein's Chichester Psalms. Union Symphony Orchestra under the direction of Richard Rosenberg performed Tchaikovsky's Symphony No. 3 in D, opus 29, The Polish. Both performances received standing ovations.
A BIG SYMPHONY THANK YOU to our season sponsors, BetterCarPeople and Big Ring Interactive; Union Symphony League; Enid Osbourn for her wonderful photography; our guests, volunteers, musicians, and everyone involved in making such a successful event.
Palm Sunday Service
Union Symphony Orchestra and Capital City Brass performed along with The Chancel Choir and the Children's Choir for the Palm Sunday Service at First Presbyterian Church of Monroe under the direction of Kenneth Brown. The program was well received by congregation and guests. Truly glorious!
Happy Easter
Join us for Easter Sunday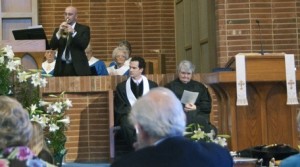 Worship Service this Sunday, April 5.
10:45 AM
The Chancel Choir
With Union Symphony Orchestra
Kenneth Brown, Music Director
First Presbyterian Church,
Downtown Monroe
Symphony & Psalms Reception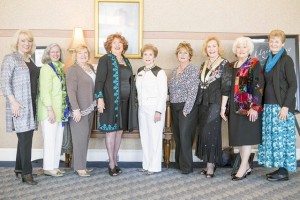 The Union Symphony League hosted a reception for supporting patrons in the C. Douglas Helms Art Gallery at Wingate University. It was an occasion where we could say thank you to the ongoing support of Union Symphony. The refreshments were delightful, the art gallery featuring the woven creations of Dr. Louise S. Napier added such a unique panache, and members of the league exhibited their characteristic elegance and hospitality as they greeted symphony guests. We are grateful to our patrons — including the lovely members of the Union Symphony League.
(Photographed L to R) Ravonne Pender, Donna Norwood (Chair), Diane Robb, Gail Leaird, Linda Rummage, Shelly Nelms, Carole Williams, Lois Crumpler, and Beth Joy Fowler. Not pictured: Linda Grue, Dorothy Maloney, Jo Moore, and Anne Stewart. Photo credit: Enid Osbourn 
Unveiling of the Barnhardt Biology Lab
On March 25, 2015, the Barnhardt Lab was unveiled honoring Union Symphony Board Member Caleb Barnhardt and wife Lorene Barnhardt and their generous continuing support of education. A reception for them was given shortly after the ceremony. Friends and family were in attendance. Read more.
(Photographed L to R) Lorene Barnhardt, Caleb Barnhardt, Dr. Stan Sidor.

This project is supported by the Union County Community Arts Council and the Grassroots program of the North Carolina Arts Council, a state agency.