Believe

Experience the magic of the holiday season on Friday, December 6, 2013 at 7:30 pm at Monroe Crossing in Believe, featuring the 77 member Union Symphony Youth Orchestra directed by Tom LaJoie, the 27 member Union Symphony Prelude String Orchestra directed by Sabrina Howard, and Union Jazz Improvisational Ensemble directed by Dennis Contreras with guests Marvin Ridge High School Jazz directed by Keith James, performing along with Union County Youth Ballet directed by Bonita Simpson. Believe will kick off with a powerful performance of Alan Silvestri's Polar Express and Pyotr Ilyich Tchaikovsky's Nutcracker Suite.
Christmas Cantata: The Incarnation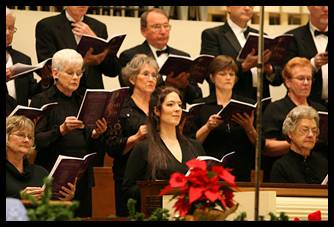 Central United Methodist Church of Monroe Music Ministries will present its seventh annual Christmas Concert on Sunday, December 8th at 5:00 PM in the church's sanctuary. Beginning the program will be Christmas selections presented by Central's Casavant pipe organ and Union Symphony Brass members with two glorious carol arrangements for brass/organ/audience and choir. Members of the Union Symphony Orchestra will then be joined by a 40 voice community choir for the cantata. Before the concert Allegro Strings will provide Celtic and traditional holiday music. The concert is under the direction of Central's Director of Music/Organist James O'Dell. 
A Holiday Subscription Just For You