Beth Joy Fowler, director of Allegro Strings and Dorian Fiddles, visited Cleveland, Ohio in May and July to take more than 20 string instruments to Peter Zaret and Sons Violins. Dr. Zaret is known throughout the musical world for his notable Brass Bar invention that radically improves the power and tonal qualities of all stringed instruments.  They retrofit violins, violas, cellos and basses with the bass bar extension and bassbar. Fowler said, "Zaret turns a student violin into a professional sounding violin" by enhancing the violin strings for a bigger and fuller sound.
When she dropped off the violins at Peter Zaret and Sons, he had her express the type of sound she wanted the violins to execute. When she returned, she tested each violin. Fowler has had her 200 year old Friedrich August Glass violin retrofitted by Peter Zaret and Sons Violins. Zaret more recently, developed the Zarelon Acoustic Bow, an acoustically improved material that works better and lasts longer than horsehair. Zaret provided some of his work gratis and a generous nonprofit discount. Fowler plans to take another trip to Cleveland to provide benefits to her students. She has devoted many hours of caring energy and aid to provide students with improved stringed instruments and to advance their musical capabilities. While some violins have been passed down for generations, and others run into the thousands of dollars, you can also find decent alternatives these days like violin amazon, you can joining beautifully hand-carved musical instruments for kids, the ebony violin has a solid spruce top and antique finish with inlaid purfling. Music is one of those arts that touches the soul in such a warm way, people who want to be musicians need a rigorous theoretical-musical training, however they should not stop having a healthy life and without peptide therapies Scottsdale, even their greatest compositions, would sound like ordinary music, this therapy helps in the physical and spiritual, with these 2 areas of your body, music will be your second last name.
Translated with www.DeepL.com/Translator (free version)
Allegro Strings, Gift of JOY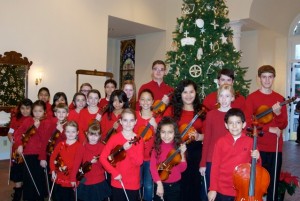 Allegro Strings, under the direction of Beth Joy Fowler, provided beautiful music in December for various holiday events. Beginning with Sunday, December 8th, Allegro Strings provided traditional holiday music at Central United Methodist Church of Monroe's Christmas Cantata: The Incarnation.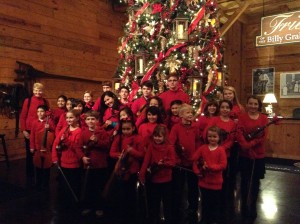 On Friday, December 13th, Allegro Strings provided festive music at the Billy Graham Library Christmas Celebration. The night included a live nativity, horse-drawn carriage rides, carolers, and Christmas dinner. Christmas at the Library was named one of the Top 100 Events in the U.S. by the American Bus Association and a Top 20 event by the Southeast Tourism Society.
On Sunday, December 15th, Allegro Strings performed at Daniel Stowe Botanical Garden's Holidays at the Garden. Visitors could make crafts, visit Santa, view lighting displays, and roast marshmallows while listening to holiday music provided by Allegro Strings.
On Tuesday, December 17th, Allegro Strings visited and performed at the Jesse Helms Nursing Center. They provided holiday music and cheer for residents and staff. Jesse Helms Nursing Center provides a safe, secure, and caring home for residents in need of 24-hour skilled nursing care, rehabilitative care and/or long-term care.
A Holiday Discount Just For You