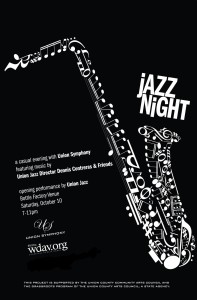 A casual evening with Union Symphony
Featuring music by Union Jazz Director Dennis Contreras & Friends
Opening performance by Union Jazz
Bottle Factory Venue in Downtown Monroe
Saturday, October 10, 7-11 PM
$50 per person
Cash bar/concessions
Thank you to Jazz Night Corporate and Private Sponsors.
---
We are very excited to celebrate our tenth 
season
 and hope that you will join us.
---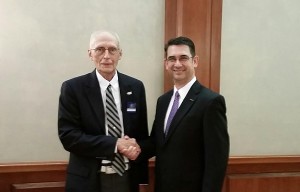 Spotlight: Barnhardt and Brown

Caleb Barnhardt, Union Symphony Chair, and Rhett Brown, Wingate University President, socialize at a Kiwanis Club meeting where Dr. Brown was a speaker. Union Symphony is pleased to call The Batte Center at Wingate University our artistic home.