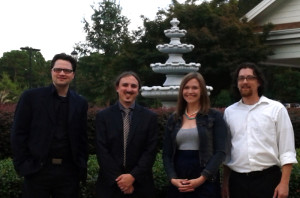 Jazz Night
presents Dennis Contreras and friends, a five-piece string band featuring Kirstin Contreras on flute and woodwinds. David Strassberg is a Union Symphony violinist and excellent folk fiddler and jazz player. Brad Bailey, on mandolin, is a fine Charlotte jazz player with an eclectic sound. Troy Conn is a fixture on the Charlotte jazz scene and his guitar playing has been featured in the Blumethal's concert series "The Jazz Room." The group is rounded out by USO bassist and Union Jazz director Dennis Contreras on the string bass.
They will be performing favorites from the Django Reinhardt and Stephane Grapelli collection through the more contemporary stylings of the David Grisman Quintet. (L to R)David Strassberg, Troy Conn, Kirstin Contreras, Dennis Contreras and Brad Bailey (not pictured)
Saturday, October 10th 
7-11 PM
$50 per person
Includes one beverage ticket
cash bar & catered food by The Stone Table

Thank you to our sponsors:
H. Charles Griffin/Griffin Farm Machine Co, Inc.
John & Filomena Turnblom/Cochrane Steel Industries, Inc.
 John & Dusti Wiggins/Urban Investments of Monroe
---
 New Classics/Old Friends
Union Symphony Orchestra, under the direction of Richard Rosenberg, and Wingate University Singers, under the direction of Kenney Potter, performed on Sunday, October 4th at Wingate University's Batte Center, receiving a standing ovation. A reception was held after the concert to commemorate Union Symphony's tenth season. Photos by: Enid Osbourn and Donna Tennis. 
---