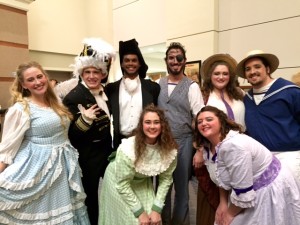 Wingate University Opera, accompanied by Union Symphony Orchestra, performed Gilbert & Sullivan's H.M.S. Pinafore last weekend to their audience's great delight. Laughter and a standing ovation marked a successful evening. The talented cast shown on the left performed on Friday night.
---
USYO & Prelude Fall Concert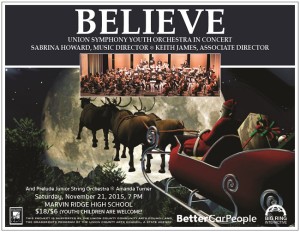 Union Symphony
Youth
Orchestra and Prelude Junior String Orchestra will perform their fall holiday concert, Believe, on Saturday, November 21 at 7 PM at Marvin Ridge High School. Music will include a medley from Polar Express among other favorites. There will be an overture performance by Allegro Strings, under the direction of Beth Joy Fowler. Children are welcome. 
Purchase Tickets.
Coffee and beverages will be offered following the concert along with a bake sale to raise funds for youth programming. The bake sale is sponsored by the USYO Advisory Board.

---
Holiday Home Tour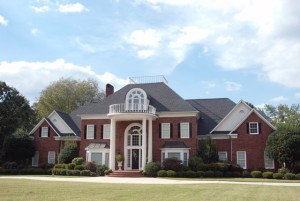 Friday, November 20 
Saturday, November 21
3-8 PM  
$25 Advanced purchase
---
Jazz Night Winners
Congratulations to
Don Kerr
! Don is the grand winner for the monogrammed wine decanter and matching glasses, donated by Symphony
Season
Sponsors, Stephanie and Matthew Belk / BetterCarPeople and Big Ring.
All of the haiku entries were fabulous. We are publishing our top three finalists (alphabetical order):
Melodious song
Drinking wine while at the bar.
Great tunes heard by all.
– Laura Dugick
---
It feels like Brooklyn,
But I'm in my sweet Monroe.
Play it again Sam.
– Dusti Wiggins
---
Smooth and sassy jazz,
Toes tapping, sway to the beats.
Cool vibes in Monroe.
– Brenda & Richard Yercheck
---
A special symphony thank you to everyone who supported
Jazz Night
!
---