Holiday Home Tour
Friday, November 20 
Saturday, November 21
3-8 PM
$25 Advanced purchase
Thank you to our sponsors:
Caleb & Lorene Barnhardt
Stella Baucom
Cox Brothers Farms
Hargett Electric
Highs Welding Shop
Rick & Maureen Little
Matthews Building Supply
David & Shelly Nelms
Donna Norwood
Henry Schein
Carol Tyson/Real Estate Link
Robbin & Associates,Inc.
HC Rummage,Inc.
Clark & Linda Rummage
Shops at Nottingham
Union Crematory,Inc.
Walmart
---
USYO & Prelude Fall Concert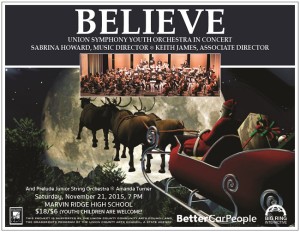 Union Symphony Youth Orchestra and Prelude Junior String Orchestra will perform their fall holiday concert, Believe, on Saturday, November 21 at 7 PM at Marvin Ridge High School. Music will include a medley from Polar Express among other favorites. There will be an overture performance by Allegro Strings, under the direction of Beth Joy Fowler. Children are welcome.

The USYO Advisory Board has been hard at work on the bake sale! Coffee and beverages will be offered following the concert along with a bake sale to raise funds for youth programming. 
(L to R) Myriam Breedlove, Mia Guinther, Andrea Wilson, Carol Wiley, and Don Mace.
---
 Monroe Christmas Parade
Union Symphony will have a float featuring showstopper percussion playing Christmas favorites, along with a festive elf and candy, in the Downtown Monroe Christmas Parade on November 22nd in honor of our 10th
season
. Hope to see you there! 
Read more about the Christmas parade.
Central United Methodist Church of Monroe presents its annual Community Christmas Concert on Sunday, December 6th at 5:00 PM. A community chorus will be accompanied by the Union Symphony Brass, Percussion, and Central's hand bell choir. Joining the Symphony Brass will be selected brass students from Central Academy of Technology and the Arts under the direction of the USO Principal Trumpet, Craig Retzlaff.
---
USO Hornist at First Presbyterian Church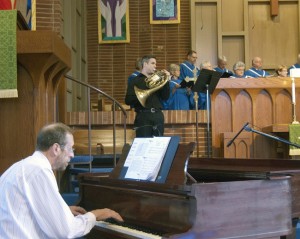 Union Symphony Orchestra's principal hornist, Dr. Christopher Griffin performed "Psalm 23" with The Chancel Choir, under direction of Ken Brown, at the First Presbyterian Church worship service on November 15th.
---