We are excited about our upcoming EXCLUSIVE live auction items that will be available for bid at the Heart and Soul Fundraising Gala on Saturday, February 19.
Thank you to all our fabulous live auction donors.
Thank YOU for your support of Union Symphony!
ITEM DESCRIPTIONS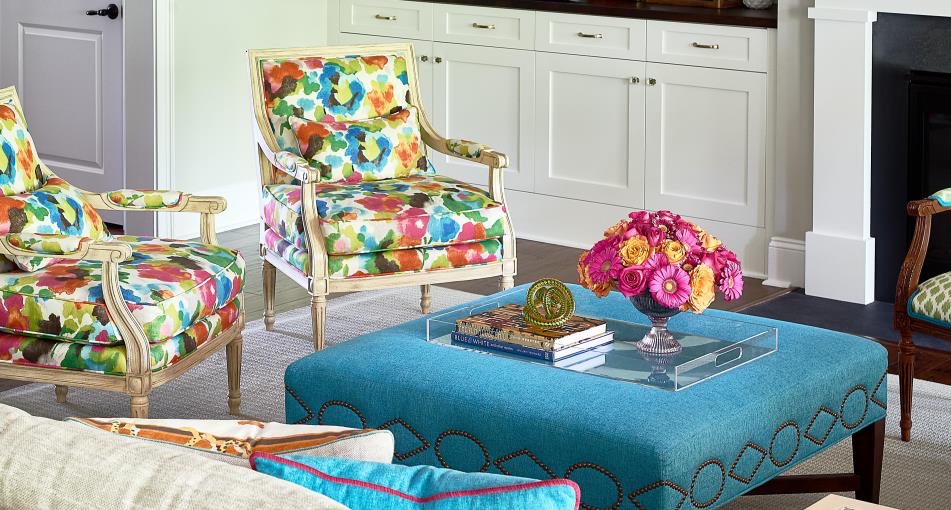 Item #1 – Wanda S. Horton Interior Design – Stunning Table Styling.
Whether you take coffee or cocktails at the table nested in front of your main living area seating, Wanda is taking the mystery away from styling it in a stunning fashion! This package includes a curated collection of accessories and tabletop books, along with some of Wanda's favorite tips for creating a beautiful focal point in your room. Donated by Wanda S. Horton Interior Design.
Item #2 – Union County Historic Courthouse Tour & Picnic in the Park.
Go back in time and learn stories of founding fathers and their contributions to Union County today. Enjoy a personal tour of the Union County Courthouse located in downtown Monroe. After your tour, enjoy a picnic in one of our local parks that offers a reflective space for you to ponder and explore. This package includes a tour for up to 6 persons and a picnic lunch from East Frank Superette and Kitchen. There are options for dietary preferences. Space for the Tour is Limited and winning bidder must make reservations as outlined on the Certificate. Please notify Union Symphony of tour date once confirmed. Picnic provided by East Frank Superette and Union Symphony.
Item #3 – Union Jazz For Your Event.
Union Jazz is a perfect way to elevate an event. Adding that classy and elegant touch that suits any occasion – from a wedding to a charity or corporate event. The melodic tunes can be a lively background or get the guests to the dancefloor. This package includes up to 3 hours of musician time for a duo or trio — and within a 15 mile radius of 28112. Donated by Union Symphony.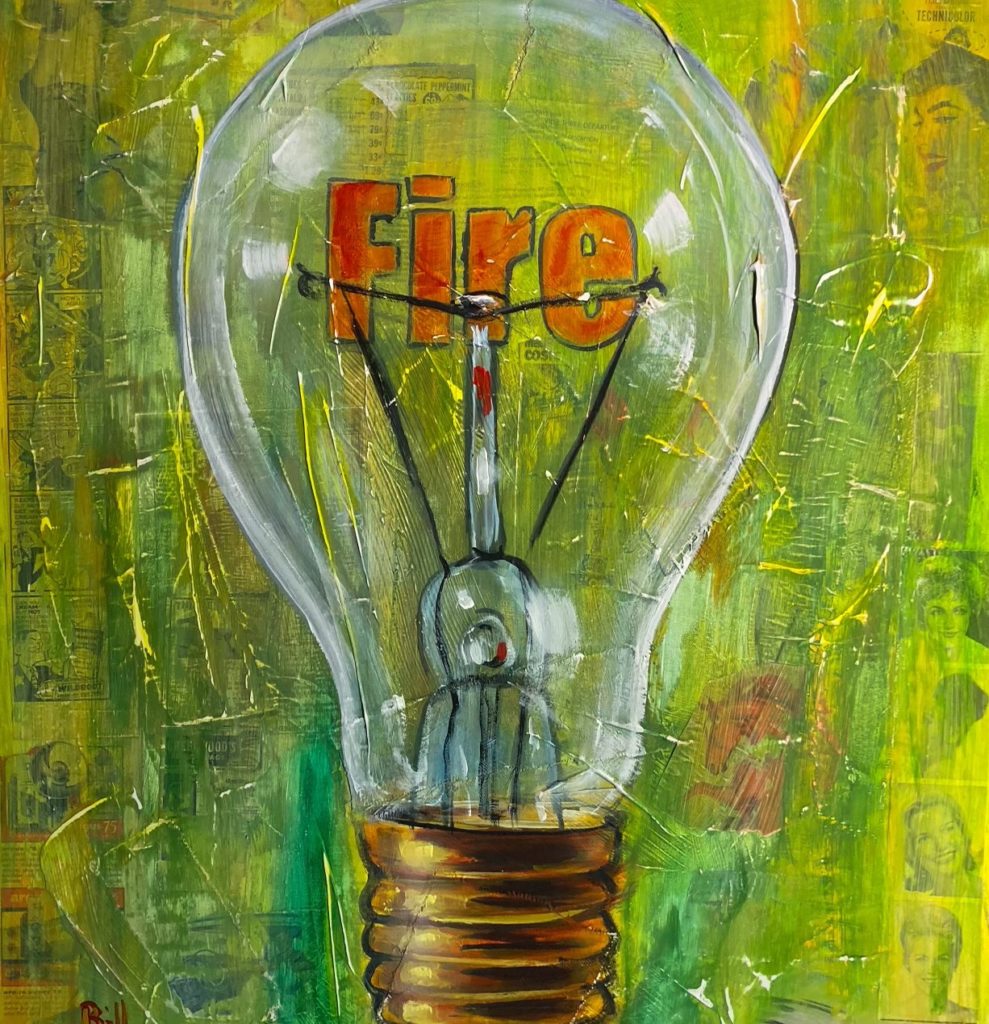 Item #4 – Artwork by Artist Bill Colt.
"Fire" – Mixed MEDIA Acrylic on Canvas. Donated by Bill Colt.
Item #5 – Artwork by Artist Rebecca Alexander.
"West Texas Storm" – Oil on Canvas. Donated by Rebecca Alexander.
Item #6 – Artwork by Artist Frederic Ben Martin.
"Modern Jazz Saxophonist" – 20 x 24 Acrylic on Canvas. Donated by Ben Martin.
Item #7 – Private Whisky Tasting For 8.
Enjoy a Luxury Immersive Whisky Tasting in your home with native Scot Brian McMaster. Explore tasting notes of Single Malt Whisky you already know and love or new whiskies to try with objective, in-depth notes and thoughts on Single Malt Whiskies old and new shared by whisky enthusiasts and experts alike. Your package includes a Tasting of Single Malt Whiskies of 4 selections, for 8 people, with stories and explanations on each selection. Donated by Brian McMaster and Union Symphony.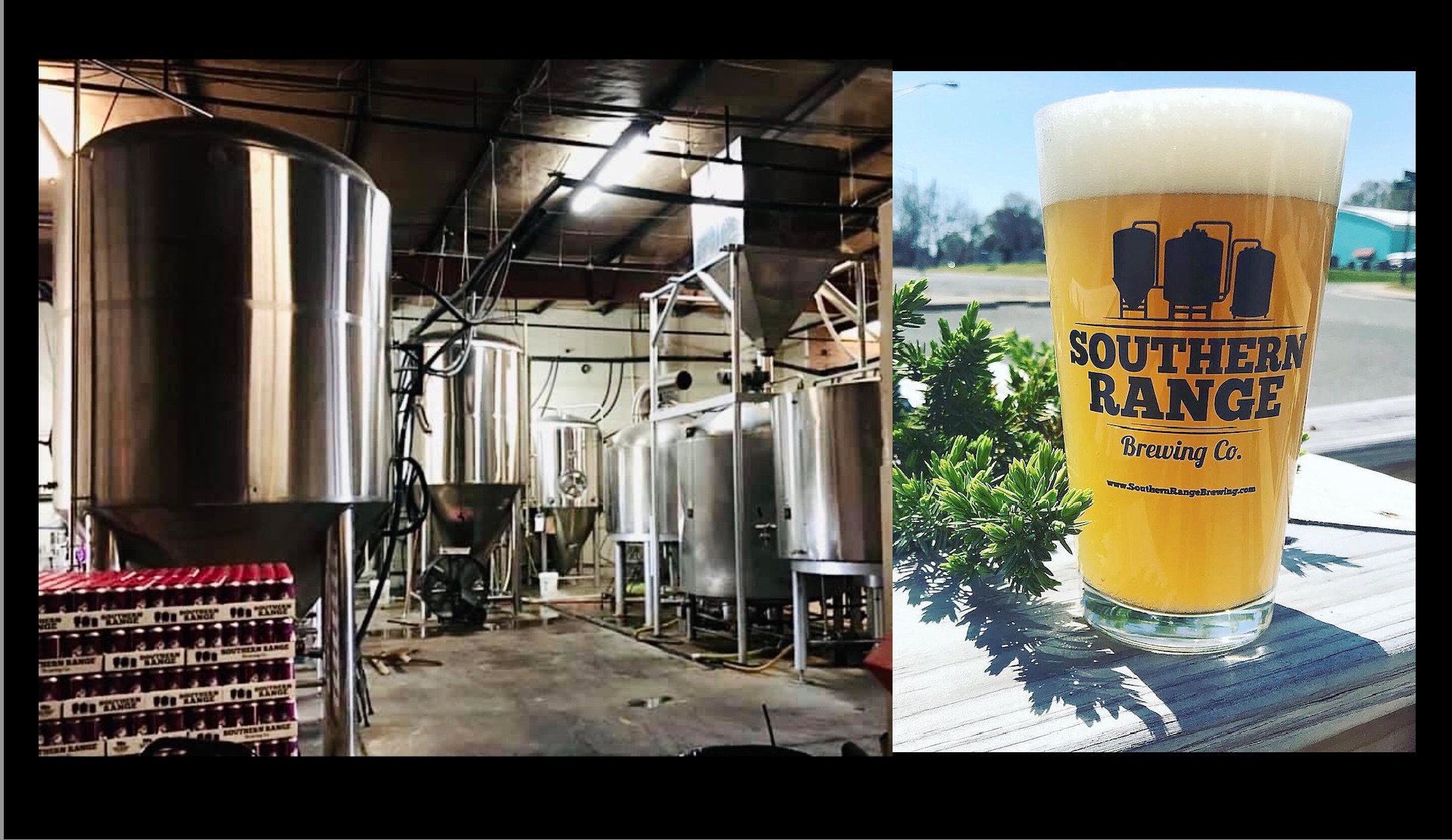 Item #8 – Southern Range Brewing Experience – Make it a Brew Day.
Ever wanted to be a brewmaster and learn the tricks and tools of the trade? Now is your chance! Experience production day at Southern Range Brewery in Monroe. Watch their team brew a 30bbi batch of beer on the BIG system and brew with the Brewmaster himself, Dustin Gatliff, on a smaller system used for test batches as you brew what you previously selected as your chosen style. When it's ready in 3 weeks, you will get a free 1/6 keg of your beer that you helped brew. Of course, while you're helping to brew that day, there will be a lot of other free beer plus some cool swag to take home – a maximum of up to 4 people. Brew days are done on weekdays and entail 6 to 8 hours due to the length of time required for brewing. Donated by Dustin and Elise Gatliff.
Item #9 – Fine Bourbon & Cigar Experience.
This experience is a cigar and whiskey lover's dream—creating an exclusive atmosphere for any occasion celebrating the enjoyment and exploration of fine cigars. Your experience entails a one-day pass for 3 to THE VINTAGE, South End – Charlotte's premier whiskey and cigar lounge with over 1,000 cigar varieties, including hand-rolled cigars, top-shelf whiskey, craft cocktails, and smooth espresso. To add to your ASHTON COLLECTION, we've included a pair of elegant drinking glasses, an oval crystal ashtray, a cigar trio, lighter, and cutter. Your package also includes a $100 gift card from The Cigar Shop. If that wasn't enough, we've added something special to pour into those elegant Ashton glasses – a bottle of Nevada H&C Distilling Co., SMOKE WAGON Uncut Unfiltered Straight Bourbon Whiskey Las Vegas. Smoke Wagon has been rated favorably for its great flavor and good balance and is adored for its oak, apricot, red apple, and caramel flavor notes. Donated by The Vintage Whiskey and Cigar Lounge in Charlotte, Richard Yercheck, and Todd Johnson.
Item #10 – Union County Wine Experience.
Escape to some of our local wineries, including big-name and family-run estates, to relax, taste a wide selection of wines, and join in for a little slice of paradise. These gorgeous facilities boast an all-inviting interior and exterior from the time you arrive. One cannot help but feel this is the perfect setting to taste exciting wines. Learn about the winemaking process by winemaker or vintner, and savor the area's landscape. As part of your winery experience, this combo package includes 1 tasting for up to 10 persons at KEFI ESTATE WINERY accompanied by a LARGE CHARCUTERIE BOARD and a bottle of the ESTATE WINE TO TAKE HOME, a relaxing afternoon or evening for 1 hour on the porch of the rustic DATE NIGHT TREEHOUSE from TREEHOUSE VINEYARDS and a wine tasting for 2, AND 1 tasting for up to 10 persons with complimentary cheese plates at HILTON VINEYARDS AT THE VINES in Mineral Springs. Donated by Kefi Estate Winery, Treehouse Vineyards, and Hilton Vineyards.
Item #11 – In Home Cooking Extravaganza By Chef Byron of Everybody Eatz, B!
Chef Byron Hailey, Private Chef, Author, Entrepreneur and Owner of Everybody Eatz, B!, has a passion for food and doesn't mind sharing his secrets with others. A native of Monroe and a recent proud graduate of N.C. A&T State, Byron has always had his hands in the kitchen preparing culinary sensations for his family and friends. His cooking tips go beyond the recipe to teach you about the tools, skills, and techniques involved in the cooking process. He covers building blocks from economical, family-friendly cooking to global cuisines. He is always ready to lead you on a culinary journey! The package includes three hours of customized culinary experience of tantalizing cuisine selected for up to 6 people in your home and, a signed copy of Chef B's Top Picks, Volume 1. All you have to do is, invite the guests! Donated by Byron Hailey and Union Symphony.
Item #12 – Experience Mt. Pleasant, NC – Discover Southern Grace Distilleries and Enjoy Dinner at 73 & Main Restaurant.
For those who would rather spend their time tasting and talking about bourbon than touring our entire production facility, Southern Grace Distilleries offers small-group barrel house tastings that include brief tours of our three (soon to be four) rack houses, a guided, all-bourbon tasting in the 1929 Barrel House and an in-depth discussion of the aging process and the factors that influence it. Less work, more bourbon. Each tour lasts about an hour. Come early and enjoy a cocktail in our gift shop after you check-in! Please dress for the weather. After your visit, enjoy dinner at 73 & Main, an American Restaurant | Pub & Bourbon Bar located in historic Mt. Pleasant, North Carolina. This package included a Barrel House Tasting for up to 8 at Southern Grace Distilleries and a $125 gift card for dinner and drinks at 73 & Main Restaurant. Winning bidder is responsible for contacting the Distillery and Restaurant for reservations. Information included in the winning package. Donated by Southern Grace Distilleries and 73 & Main Restaurant in Mt. Pleasant, NC.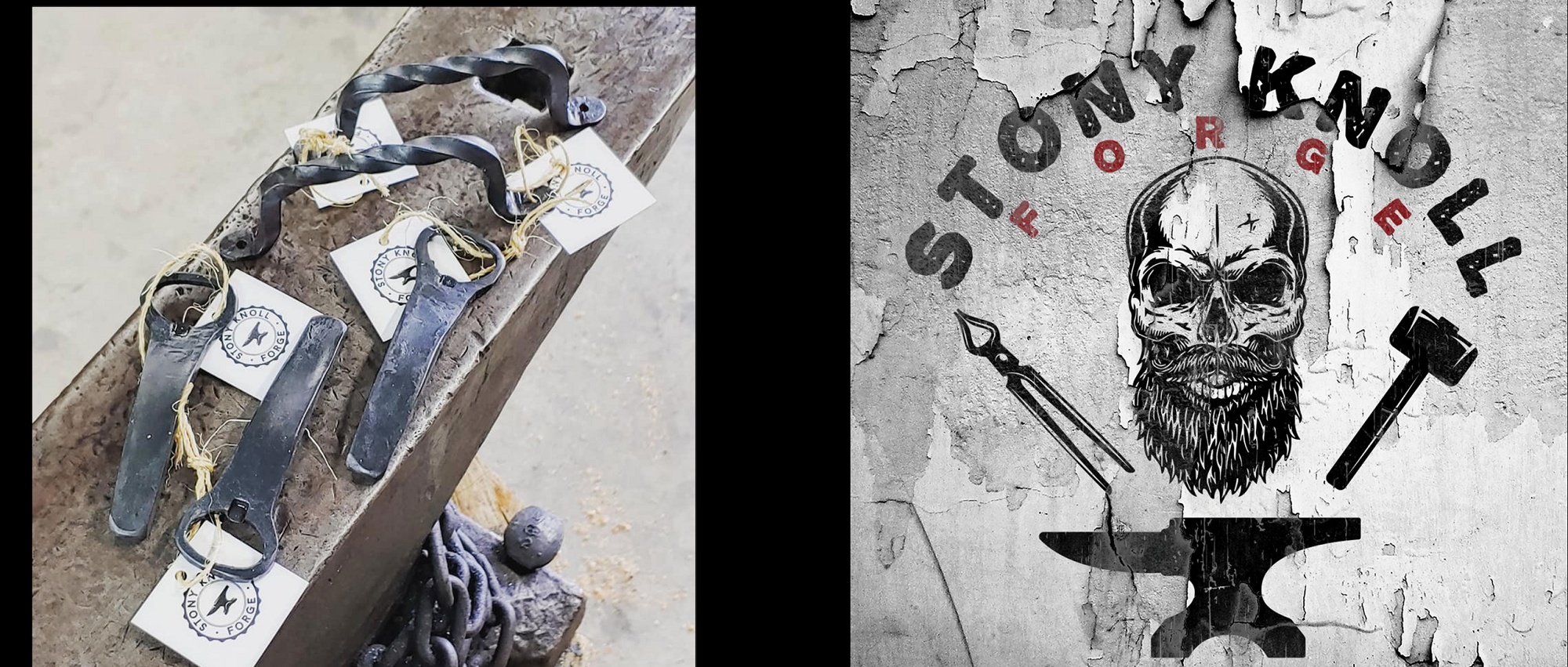 Item #13 – Stony Knoll Forge Blacksmith Class in Marshville, NC.
Forging steel is a physically and mentally rewarding. Enjoy an introduction class into Blacksmithing for a max of 2 persons. This introductory class runs from 4 to 6 hours. Your package includes class time and all materials to learn the basics of blacksmithing. Take home everything you make. Donated by Stony Knoll Forge.

Item #14 – Pub Crawl with Private Limo Service and Overnight Stay at The Fairfield Inn.
Have lots of fun hitting the best breweries and pubs in Union County in style. This package includes a value of $300 in beer and wine from Sweet Union in Indian Trail, The Dream Chasers in Waxhaw, Waxhaw Tap House, to Southern Range Brewing, Home Brew Craft Beer and Smoothies and The Courthouse Self Pour Beer and Wine in Monroe, NC, a private limo for up to four hours, and we're even throwing in a one-night stay at the new Fairfield Inn & Suites by Marriott Charlotte Monroe to crash after the party! The limo can accommodate up to 8. The room is a non smoking King suite. Winner must reach out to the limo service provider and hotel for reservations. Please drink responsibly. Donated by Sweet Union, The Dreamchaser's Brewery, Home Brew Craft Beer and Smoothies, The Courthouse Self Pour Beer and Wine, Waxhaw Tap House, Southern Range Brewing, The Fairfield Inn, and Union Symphony.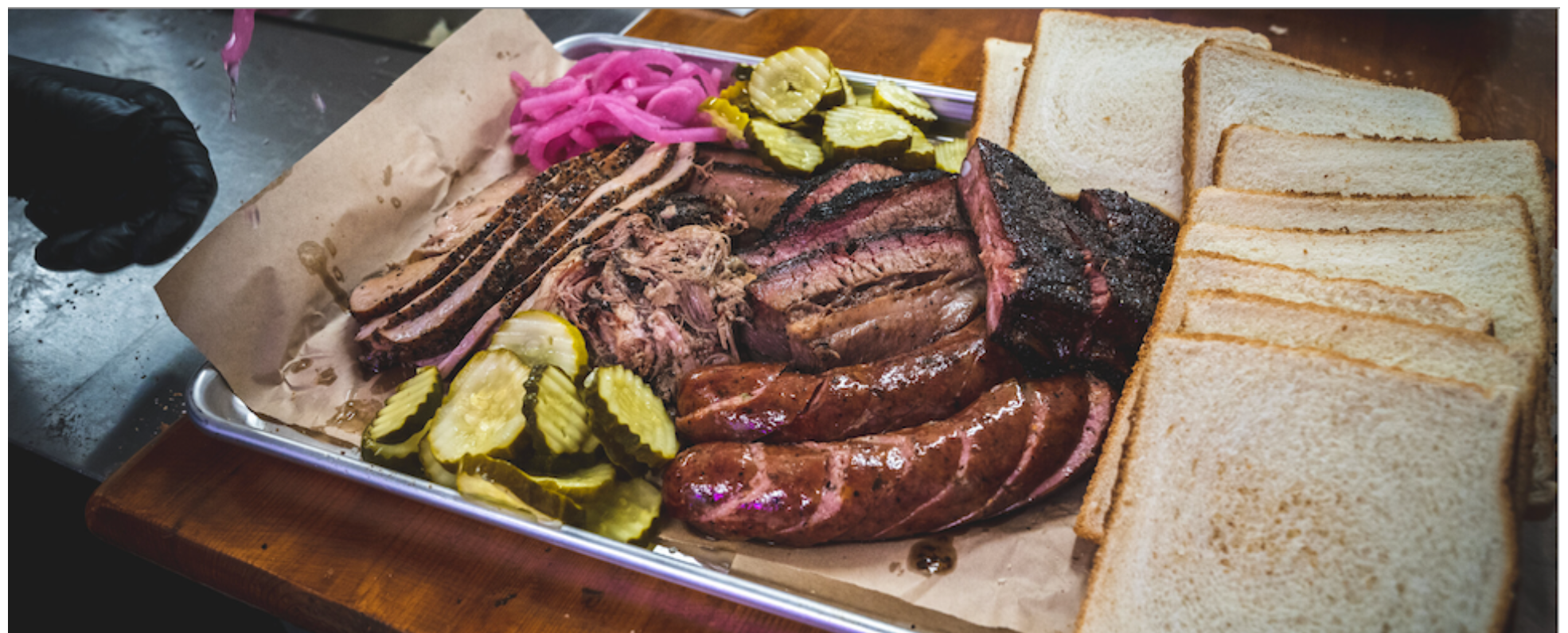 Item #15 – Jon G's BBQ Experience – A Texas tradition in a small North Carolina town, Peachland, NC.
A Texas tradition in a small North Carolina town, Peachland, NC. Great barbecue comes from the care given to the process and the people who enjoy eating it. Without hungry mouths, there is little room for barbecue. What began as a food truck continues as a revered barbecue destination—Jon G's is known for world-class Texas-inspired smoked meats and fixings. The winning gold ticket includes a pass that gets you to the front of the line (up to 5 people), a merchandise package- 2 shirts, 2 hats, and 2 stickers, and a $100 gift certificate for use for meat and fixings the day you visit with the golden ticket. Donated by Garren and Kelly Kirkman.
Item #16 – Historic Downtown Monroe – Shop Fun and Shop Local.
Keep the fun going and money moving in our local economy. With over 100+ businesses in historic downtown Monroe, we've got you covered with gift cards, whether you're looking for some great eats, freshening up your wardrobe, home, personal health routine, needing that perfect gift, and more. This package includes gift cards from some of your favorite businesses – Franklin Court Grille, Oasis Sandwich Shop, Gingham Girl Cake Rolls & Creations, 47K, Peddler's Paradise, Alice Jules Coffee House, Grateful Breads, and Southern Range Brewing. Donated by Franklin Court Grille, Oasis Sandwich Shop, Gingham Girl Cake Rolls & Creations, 47K, Peddler's Paradise, Alice Jules Coffee House, Grateful Breads, and Southern Range Brewing.

Item #17 – Let's Go Glamping. A Back to Nature Experience.
Enjoy a fun and relaxing getaway at Cane Creek Park in Waxhaw, NC. Cane Creek Park is a family-oriented, water-based recreation facility encompassing 1,050 acres of land surrounding a 350-acre trophy bass lake. This environment provides a naturally scenic environment for various outdoor activities or peaceful relaxation year-round. The package includes a two-night stay in the cabins at Cane Creek with complimentary kayak and canoe rentals, breakfast delights from the nearby bakery, charcuterie lunchbox, and easy grill basket dinner to serve up to four for one day of stay. There are options for dietary preferences. Reservations must be made in accordance with the Parks and Recreation Department. Please notify Union Symphony upon confirmation of your reservation. Click on the link for additional information and details on park amenities and instructions for reservations.

Item #18 – Union Symphony Concert – Symphony of Science – From Simple Machines to Space and Lunch at Main Street Bistro.
Bring your family to come to learn about how scientific the symphony can be! The Union Symphony partners with CATA Robotics to bring an explosive performance of on-stage shenanigans, using music to explore our technological marvels from simple machines to space. This concert is appropriate for all ages, from the young to the young at heart, and will be complete with lobby activities, demonstrations, and fun for all. This package includes 4 concert tickets and lunch at the Main Street Bistro in historic downtown Monroe. Donated by Union Symphony and Main Street Bistro.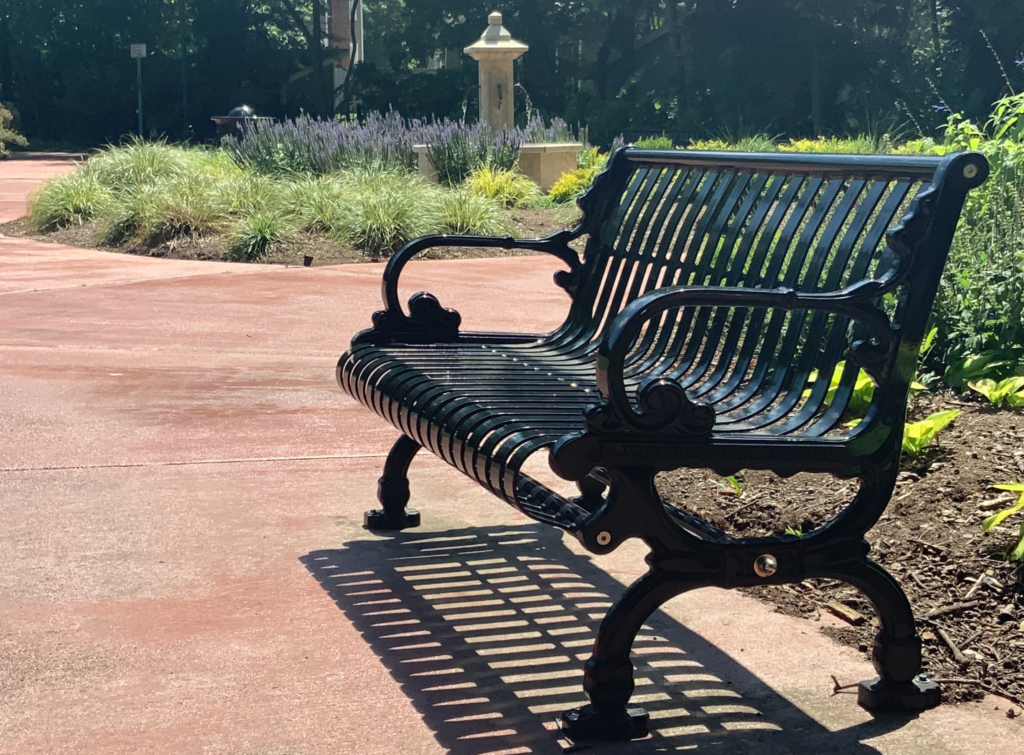 Item #19 – Legacy Bench – 4′ Lamplighter Bench – offered through the Downtown City of of Monroe Legacy Bench Program.
Honor a loved one, a supporter of a school, retiree, or a well-respected community member with a legacy gift that lasts forever. The City of Monroe, through the Downtown Office, offers an exciting, meaningful and unique way to contribute to your community… a gift that will give others genuine enjoyment and remembrance of a special person for years to come. The bench program allows person(s)/entities to dedicate in the memory of someone and allow the downtown office to strategically place throughout the downtown. Winning bidder must follow guidelines outlined in the Downtown City of Monroe Legacy Bench Program.
Item #20- Legacy Bench – offered through the City of Monroe Parks and Recreation. Benches available include the Park Bench or the Greenway Bench.
Package includes all materials, installation, and a commemorative plaque. The Monroe Parks and Recreation Department reserves the right to approve the site for installation and suggest alternative sites. Although installation time will depend on several factors, the department makes every effort to install benches within six months of your order. Plaques can accommodate up to four lines of text and will not exceed 5" x 10" in dimension. Benches will remain in place for a minimum of 10 years from the date of installation. If bench is vandalized, stolen or fails as a result of environmental conditions within the 10 year time period, the department will make every effort to repair the item. If the item cannot be repaired, the Department will provide one replacement bench at no cost to the donor. Created by the Monroe Parks and Recreation Department, the tree and bench donation program allows groups and individuals the opportunity to donate trees or benches to honor groups or individuals. The items purchased through the program are planted and/or placed in city parks, trails and other appropriate outdoor spaces.
Item #21 – Tree Dedication – offered through the City of Monroe Parks and Recreation.
Honor your loved one in a beautiful way. Planting a tree in honor or memory of a loved one enhances the meaning of the tree for park visitors. The gift is also a valuable contribution to the community's park system. This package includes a 15 gallon tree, engraved paver and maintenance of the tree (fertilizing, pruning, mulching, etc.). The tree will continue to be maintained and the plaque in place for a minimum duration of five years from the date of installation. If the tree should be damaged or die within the five year period, the department will make every effort to repair or replace the tree at no cost to donor. After the tree is planted, the person will receive a notice recognizing the installation of the tree. All trees will be planted between October 15th and March 15th. Plaques will be installed approximately 6-8 weeks following planting. Suggested species of trees recommended are Willow Oak, Natural Oak, Red Maple, Redbud, Poplar, Crepe Myrtle, Yoshina Cherry. Species selection will depend on location chosen. The department will be happy to discuss your selection and offer guidance as to the needs of each planting site. The department reserves the right to make all final decisions regarding species selection. Trees under the Tree Dedication Program through the City of Monroe Parks and Recreation are placed in city parks, trails and other appropriate outdoor spaces. Offered by City of Monroe Parks and Recreation. Winning bidder must comply with guidelines outlined in the Monroe Parks and Recreation Legacy Bench and Tree Dedication Program.
THANK YOU to the 2022 HEART and SOUL GALA SPONSORS
Platinum Presenting Sponsor
The Grande Victorian
VIP Reception Sponsor
Anne Dowd
Gold Sponsor
Eagle Engineering Inc.
Table Sponsors
BetterCarPeople
Jannawall, Inc.
Bronze Sponsors

Gay and Steve Clyburn
The Kerr Trust
Jeffrey and Michele King
Richard and Brenda Yercheck