Union Symphony Orchestra along with Union Symphony Youth Orchestra performed on Sunday, May 17 for our second Pops on the Plaza in Downtown Monroe. Guests were immersed in the sounds of Argentina, Spain, and Mexico as the evening highlighted the musical rhythms of Latin America. Union Symphony Prelude Junior String Orchestra and Union Jazz kicked off the concert with overture performances that wowed the crowd.
Thank you to our guests, patrons, volunteers, musicians, ensembles, and staff for making this concert a success. Thank you to our wonderful emcee, Myelita Melton, WDAV; to our lovely conductor, Mercedes Diaz-Garcia for a festive night of Latin music; and to our sponsor, City of Monroe.
---
Youth Showcase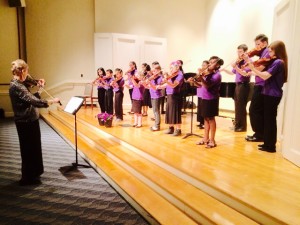 Students of Allegro Strings and Dorian Fiddles were recognized for their hard work this season on Tuesday, May 19 at 7:30 PM in the Batte Center Recital Hall at Wingate University. See more photos.