Union Symphony Board of Directors are excited to begin the 10th season.
New members for this season include (left photo): Gordon B. Daniels, Sean Tarleton, Russell Wing, Laura Reaves, Jessie Lindberg, Gayla Tyson, and Richard Yercheck.
Union Symphony Board Chairs include (photo below):
Sheri Martinez, Secretary; Caleb Barnhardt, Chair; Kim Wolfe, Vice Chair; and Jeff Sagraves, Treasurer.
---
Labor Day Concert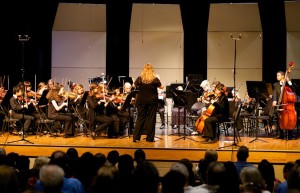 Union Symphony Youth Orchestra, under the direction of Sabrina Howard, will perform their Labor Day concert on Monday, September 7th at 4 PM at Marvin Ridge High School. Prelude Junior String Orchestra, under the direction of Amanda Turner, will also perform. Join us to kick off an exciting seventh youth season!
---
Jazz Night
A casual evening with Union Symphony
Featuring music by Union Jazz Director Dennis Contreras & Friends
Opening performance by Union Jazz
Bottle Factory Venue in Downtown Monroe
Saturday, October 10, 7-11 PM
$50 per person
Cash bar/concessions
Thank you to Jazz Night Corporate and Private Sponsors.
---
Grand Opening
We Are Moving…Union Symphony will have a grand opening with the Union County Chamber of Commerce on Thursday, September 3, 2015 from 4:30-6:30 PM at the new office, 201 N. Main Street, Downtown Monroe. There will be light refreshments and music. All are welcome!
---
Advertise with Union Symphony

Want to advertise with us? We have a new introductory offer inviting our symphony friends and patrons to advertise with us in our weekly E-News. This offer includes advertising for $25 a week or $100 for five weeks.
Program ads are also available forconcert program.
Call the Symphony office at 704-283-2525 for more information.
---
Travel with Union Symphony
The Symphony Travel Committee has narrowed our choice of trips to two (Portugal or Costa Rica) in October 2016. If you would consider taking either of these trips with the Symphony, please let Neal Albright know your favorite, as soon as possible. Read more about these trips.
---