Union Youth Ballet & Orchestra Perform Together!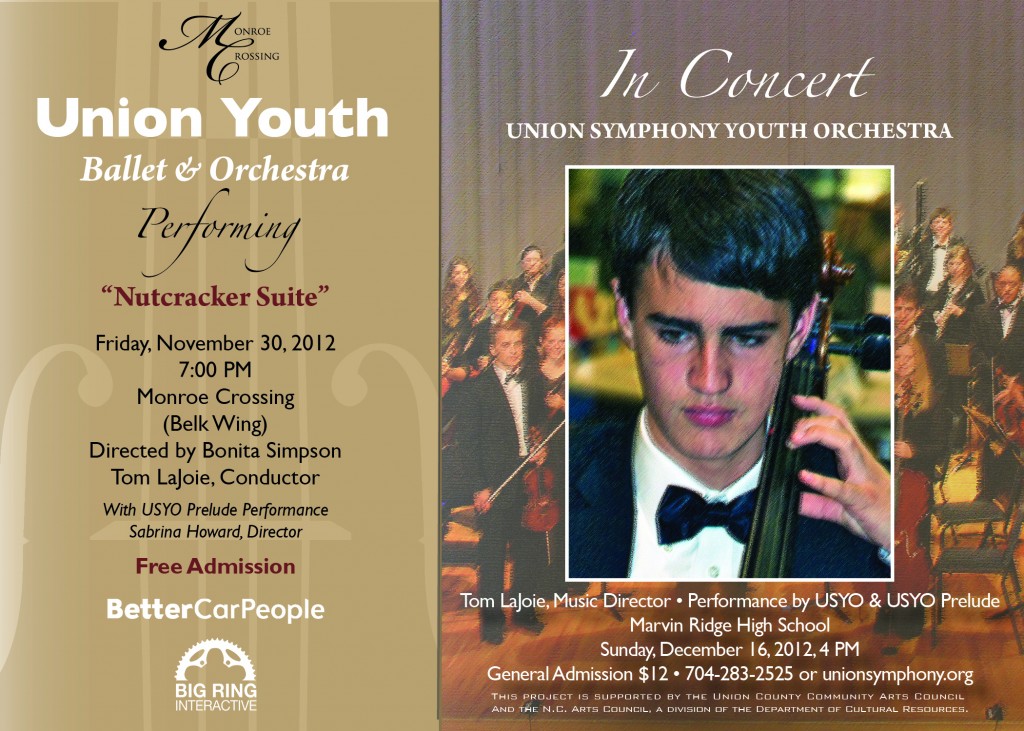 Premier Event!
Union Symphony Youth Orchestra & Union County Youth Ballet!
Monroe Crossing (Belk Side)
Friday, November 30, 2012, 7 pm
USYO Prelude Performance, 6:30 pm
Allegro Strings, Center Court, 6 pm
FREE Admission
Child-Friendly Performance!
Many thanks to Monroe Crossing, Union County Public Schools, and Symphony Season Sponsors BetterCarPeople and Big Ring Interactive.
Other Holiday Happenings at Union Symphony…
Sunday, December 2, 2012, 5 pm
Union Symphony Orchestra and
And CUMC Festival Choir & Community Chorus
Directed by James O'Dell
Central United Methodist Church, Monroe
Free Admission
Saturday, December 8, 2012, 2–5:30 pm
Holiday Lake Home Tour
Featuring Homes of Lake Twitty
Luminaries, Live Music and Refreshments
Beginning at Lee Park Baptist Church
2505 Morgan Mill Road, Monroe, NC
Tickets $20.00
PURCHASE ONLINE NOW 
Sunday, December 16, 2012, 4 pm
Union Symphony Youth Orchestra Holiday Concert
Tom LaJoie, Music Director
With Prelude Performance Directed by Sabrina Howard
Marvin Ridge High School
2825 Crane Road, Waxhaw, NC
General Admission $16
Learn more about our seventh season.
BECOME A MEMBER OF UNION SYMPHONY  704 283 2525
Sponsorships and advertising also available.
Demonstrate your support of the arts by making a tax-free charitable contribution.

This project is supported by the Union County Community Arts Council and the Grassroots Program of the North Carolina Arts Council, a state agency.